This page is a resource for Monroe Country, PA residents, businesses, travel and tourism partners, and visitors on factual information who have been impacted by COVID-19. The Pocono Chamber will continue to make regular updates to this page as necessary. Please share this resource with anyone whom you know that may benefit from these resources.
Last update: 1/4/2022 @ 4:00 PM
During this time of uncertainty, The Chamber's Public Policy team will continue to provide you with the most up to date state and federal information that you can use right now for your business and your employees. We thank our public officials for recognizing that businesses need immediate assistance as you work to stay above water and be helpful to your employees.
We continue to be in daily communication with our legislative leaders and staff to monitor progress and will update you immediately on results from which you may be able to benefit.
Please contact us (contact information at the bottom of this email) with any questions you may have.
We've Been Here All Along...
The Chamber works every day to improve the economy and quality of life in the Lehigh Valley.Our mission unites us with business people and communities across the Lehigh Valley, as we...
Purposefully connect businesses (The Power of Partnerships)
Enhance the vitality of our communities (On Every Main Street)
Promote the benefits of diversity in the workplace (21st Century Chamber)
...and now more than ever, we are here for you.
​Click here to see what we've been up to!
THANK YOU TO THOSE WHO HAVE SUPPORTED US!
Allied Building Corporation
Alvin H. Butz, Inc.
​Amazon
BB&T now Truist
Capital BlueCross

Dynegy
​Equinox Benefits Consulting
ESSA Bank & Trust
​Heintzelman Funeral Home, Inc.
​Jaindl Farms

Lehigh County Humane Society
​Sams Club Foundation
Walmart Foundation
Wells Fargo
---
Vaccinations, Cases And Hospitalizations
01/04/2022
Harrisburg, PA - Today, the Pennsylvania Department of Health provided a weekly COVID-19 update as of Monday, Jan. 3.
"Pennsylvania, like the rest of the nation, is experiencing a steep increase in the number of COVID-19 cases," Acting Secretary of Health Keara Klinepeter said. "This should not cause panic, but it should be a call to immediate action. There are clear steps that every Pennsylvanian should be taking to help protect themselves and their loved ones:
Get vaccinated to help prevent serious illness and hospitalization,
Get a booster dose because it is proven to substantially increase your level of protection,
Wear a mask in public indoor spaces regardless of your vaccination status,
Get tested if you are exposed or develop symptoms and then follow the latest isolation and quarantine guidance

Opens In A New Window

.
"The Wolf administration continues working to increase testing opportunities and ensure that vaccine is readily available to everyone five and older," she added. "Meanwhile, wash your hands frequently, avoid crowds and poorly ventilated spaces and maintain physical distance to help reduce spreading the virus over the winter months." Read the rest of the update here.
Open & Certified Pennsylvania
Businesses are the heartbeat our economy. They provide us with essential services, products, food, and jobs. Now it's our turn to support our local businesses. Let's OPENnsylvania and keep our businesses running to protect our community and economy.
Look for the Sign
Our restaurants are working hard to keep workers and customers safe. And they are finding new ways to keep our hunger for good food and community satisfied. Restaurants are reimagining their indoor and outdoor dining experiences. Taking takeout and delivery to the next level and adapting to new business models. Restaurants are continuing to serve us while adopting new practices around masks, social distancing, and digital menus.
And now there is another way restaurants are rallying to fight COVID.
When you see the Open & Certified Pennsylvania sign on a restaurant's door, window, website, or social media channels it means they are a certified COVID compliant business. Being a certified business means they are taking every precaution, following all health guidelines, and keeping safety a top priority.
Search our listing of certified COVID compliant businesses to find restaurants near you. Businesses included in this directory have self-certified their commitment to mitigating the spread of COVID-19 through social distancing protocols, enhanced cleaning and disinfecting guidelines set forth by the CDC and state public health and safety requirements, the wearing of face coverings, and limiting their indoor and outdoor capacity.
Open & Certified PA Business Directory
Become an Open & Certified Pennsylvania Restaurant.
Related Information
PENNSYLVANIA STATE GOVERNMENT RESOURCES
CLICK HERE FOR THE LATEST INFORMATION ON COVID 19 IN PENNSYLVANIA
---
Employers are required to provide masks to workers. To help with the sourcing of face masks and other PPE, we have a list of PPE manufacturers and suppliers in Pennsylvania.
---
Other Chamber & Business Resources:
Greater Lehigh Valley Chamber COVID-19 Updates
Carbon County Chamber of Commerce and Economic Development
Pennsylvania Department of Community and Economic Development
NEPA Small Business Financing Assistance
---
To sign up for CodeRED alerts for Monroe, Pike, Wayne and Carbon Counties in the Poconos, click on the CodeRED logo below.

Pocono Mountains United Way
Crisis Response Fund - A coalition of philanthropy, government, and business partners has joined together to create the Monroe County Crisis Response Fund that will rapidly deploy flexible resources to organizations in our region working with communities who are disproportionately impacted by the novel coronavirus (COVID-19) and the economic consequences of this health crisis.
Pocono Mountains Visitors Bureau
CDC & U.S. Travel:
Three Important Ways to Slow the Spread
COVID- 19 Know Your Symptoms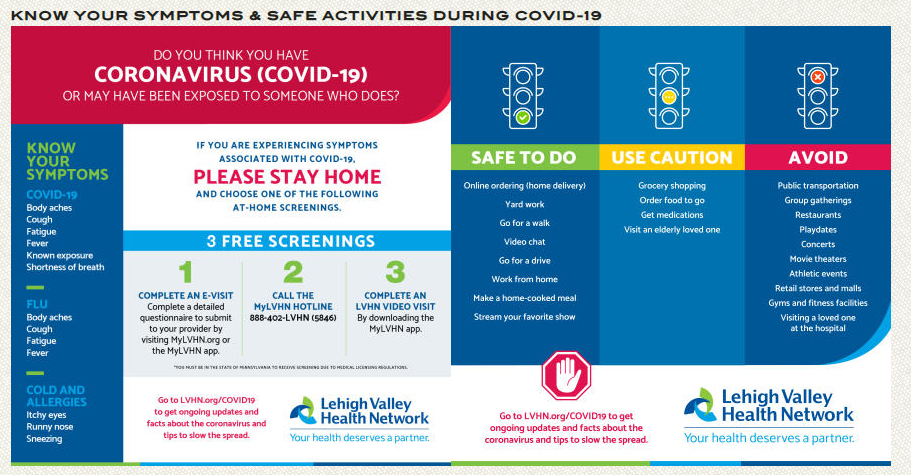 Stop the Spread, Stay Home, Stay Safe